Tras el show de Soundgarden en Detroit, el ícono del grunge decidió quitarse la vida en el baño del hotel a los 52 años. Mirá el último tema en vivo.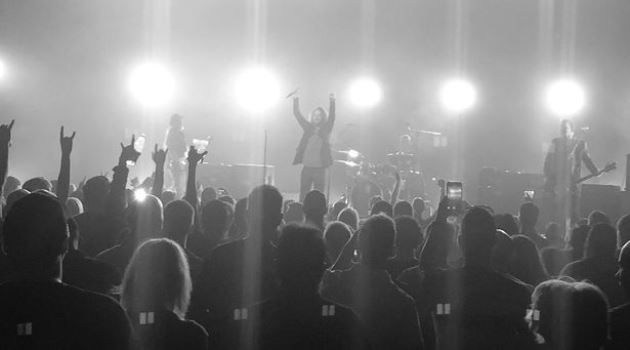 El show que este miércoles 17 de mayo ofreció Soundgarden por la noche en el Fox Theatre, Detroit, será lamentablemente recordado como el último de Chris Cornell en vida. Horas más tarde, fue encontrado muerto en la habitación del hotel MGM donde se hospedaba, tras ahorcarse en el baño. Se desconocen, hasta el momento, más detalles íntimos.
El show del miércoles, que contó con la banda The Pretty Reckless como telonera, fue el décimo de una gira a la que aún le restaban seis fechas más por los Estados Unidos.
#Detroit finally back to Rock City!!!! @soundgarden #nomorebullshit pic.twitter.com/BqXx9veFoD

— Chris Cornell (@chriscornell) 18 de mayo de 2017
En la presentación de este miércoles, Soundgarden interpretó un total de 19 canciones y, como acostumbra desde 2010, cerró con el tema "Slaves & Bulldozers", al que acostumbran a realizar mashup con "In My Time of Dying", de Led Zeppelin, a la que Robert Plant le sumó la frase "Oh, don't you make it my dying (Oh, no lo conviertas en mi muerte)", y la cual repitió Cornell en su última presentación en vivo.
Mirá el último tema de Soudgarden con Chris Cornell en vivo:
Setlist del ultimo show de Soundgarden:
Ugly Truth
Hunted Down
Non-State Actor
Spoonman
Outshined
Kickstand
Black Hole Sun
By Crooked Steps
The Day I Tried to Live
My Wave
Been Away Too Long
Fell on Black Days
Mailman
A Thousand Days Before
Burden in My Hand
Blow Up the Outside World
Jesus Christ Pose
Rusty Cage
Slaves & Bulldozers ("In My Time of Dying")