La banda liderada por Dave Grohl se presentó por segunda noche en "Late Show with David Letterman" junto a las hermanas Wilson para interpretar uno de sus clásicos. Luego homenajearon a The Rolling Stones y Bob Dylan.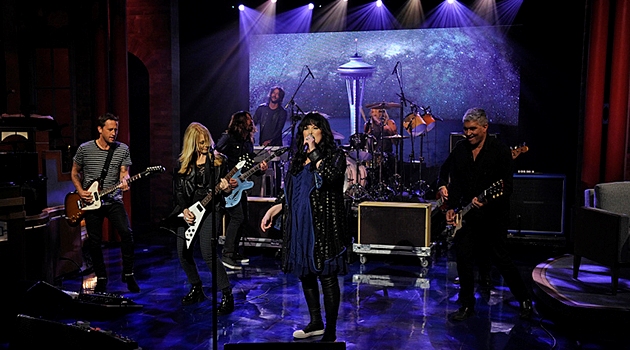 Durante toda la semana los Foo Fighters permanecerán en Nueva York para ser parte del programa diario de "Late Show with David Letterman", en el que irán promocionando su nuevo trabajo "Sonic Highways", a la venta desde el 10 de noviembre y con fecha de estreno del documental en HBO para este próximo viernes 17 de octubre.
En el segundo programa especial la sorpresa fue la presencia de las hermanas Ann y Nancy Wilson, de Heart. Junto a ellas, la banda liderada por Dave Grohl interpretó el clásico "Kick It Out".
Pero, eso no fue toda su actividad del día en la noche neoyorquina. Es que Dave junto a Taylor Hawkins se sumaron a Perry Farrell de Janes Adiction para un tributo a The Rolling Stones, con un cover de "Miss You", y a Bob Dylan con la reversión de "From A Buick 6′". Esto ocurrió en el marco de la presentación del libro "Danny Clinch: Still Moving" en el hotel McKittrick.
Foo Fighters y Heart interpretan "Kick It Out":
El cover homenaje a The Rolling Stones, "Miss You":
El tributo a Bob Dylan con "From A Buick 6":