Desde el norte del continente Americano llega esta banda nueva con toda la fuerza del punk pop.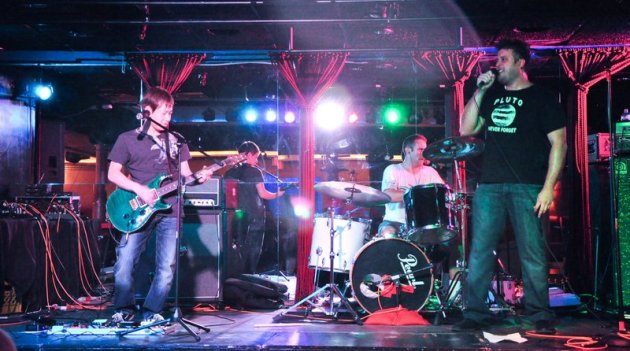 En el año 2003, el canadiense Ian Kelk decidía dejar la ciudad de Toronto y viajar a México para olvidar sus problemas. Es ahí cuando comienza la historia de 30 Dirty Thoughts, la banda que te presentamos hoy, que terminó finalmente de conformarse en los Estados Unidos.
Conformada por Ian Kelk en voz y teclado, Masa Iga en guitarra, Carl Buena en bajo y Jeff Galland en batería, la historia y descripción de la banda la vamos a dejar en su idioma original, como acostumbramos en Surf & Rock.
After a heart-wrenching breakup in 2003, Toronto-born singer Ian Kelk decided to take a month long trip to Mexico to forget his troubles, and was promptly run over by a car in Mexico City. He ended up teaching English with a broken leg, and met guitarist Oskar Villarreal through the English school "Wall Street Institute". After deciding that the name "Wall Street Boys" sounded well, stupid, they d…ecided on 30 Dirty Thoughts when it turned out none of the students could pronounce it properly.
Originally playing a sort of Nu Metal, 30DT most recently recorded an album of pop punk songs, merging incredibly catchy melodies with humorous lyrics designed to both tell stories and provide social commentary. Ian has recently moved to Los Angeles to continue the band, and has reformed the band with guitarist Masa Iga and drummer Jeff Galland. Oskar Villarreal has relocated to Xalapa, Mexico, and bassist Carl Buena has rounded out the foursome, now ready to conquer Los Angeles and the world.
In it's earliest days, the punk music genre was simply about saying what needed to be said. Social commentary and humor was key to its very core, and getting a message across was the point of any song. "30 Dirty Thoughts", an incredibly lively group of performers armed with musical technical proficiency and clever wordplay, continues this proud tradition.
From addicting pop melodies ironically… looking back on heartache, to sarcastic yet catchy satire over the current overuse of Auto-Tune in the music industry, to a humorous look at the countries' current economic situation, 30 Dirty Thoughts blasts out high energy, punk infused awesomeness. The music speaks for itself — one listen, and you'll be singing along too.
Mirá el video de "Auto-Tune This!" de 30 Dirty Thoughts:
Para más información de 30 Dirty Thoughts, visitá su Sitio Official o su perfil en MySpace.