Con las colaboraciones de grandes estrellas que pasaron por dichos estudios, Dave Grohl confirmó la banda sonora de su documental.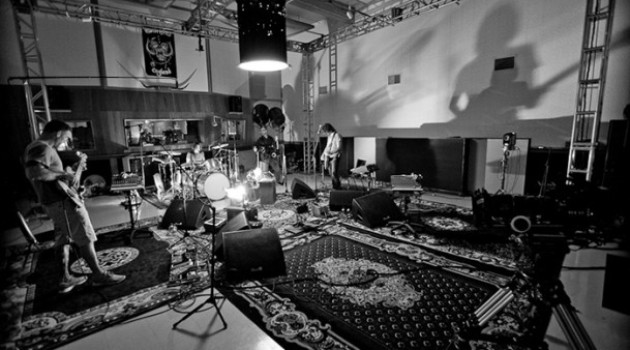 En febrero se estrena "Sound City", el documental sobre los míticos estudios de grabación donde, entre otros discos, se dio vida a "Nevermind", álbum consagratorio de Nirvana.
Su director, Dave Grohl, confirmó el playlist de la banda sonora del film. Entre los artistas que grabaron canciones están Trent Reznor (Nine Inch Nails), Josh Homme (Queens of the Stone Age), Paul McCartney (The Beatles), Krist Novoselic (Nirvana), Pat Smear (Foo Fighters), Alain Johannes (Eleven, QOTSA), Corey Taylor (Slipknot), Stevie Nicks (Fleetwood Mac), Taylor Hawkins (Foo Fighters), Nate Mendel (Foo Fighters) y Rick Springfield, entre otros.
El tracklist de "Sound City – Real to Reel"
Dave Grohl, Peter Hayes y Robert Levon Been – 'Heaven and All'
Brad Wilk, Chris Goss, Dave Grohl y Tim Commerford – 'Time Slowing Down'
Dave Grohl, Rami Jaffee, Stevie Nicks y Taylor Hawkins – You Can't Fix This'
Dave Grohl, Nate Mendel, Pat Smear, Rick Springfield y Taylor Hawkins – 'The Man That Never Was'
Alain Johannes, Dave Grohl, Lee Ving, Pat Smear y Taylor Hawkins – 'Your Wife Is Calling'
Corey Taylor, Dave Grohl, Rick Nielsen y Scott Reeder – 'From Can to Can't'
Alain Johannes, Chris Goss, Dave Grohl y Joshua Homme – 'Centipede'
Alain Johannes, Chris Goss, Dave Grohl y Joshua Homme – 'A Trick With No Sleeve'
Paul McCartney, Dave Grohl, Krist Novoselic y Pat Smear – 'Cut Me Some Slack'
Dave Grohl, Jessy Greene, Jim Keltner y Rami Jaffee – 'Once Upon a Time… The End'
Dave Grohl, Joshua Homme y Trent Reznor – 'Mantra'
"Cut Me Some Slack", por Paul McCartney, Dave Grohl, Krist Novoselic y Pat Smear: